Let you manages your sales process from Quotation to Invoicing
Sales Process Management is a function that streamlines the sales process in an organized and delegable manner. It begins with sales quotation and moves on to order taking, stock allocation, invoicing, and delivery. These details may be passed to the finance and logistics modules for further processing.
The includes features such as price books, which allow you to set quotation prices based on the customer category. You can make changes to pricing, taxes, and units of measure, as well as apply discounts in percentage or by any amount.
When a customer makes a purchase, the details are passed to the Sales Order function for fulfilment. The allocation source can be a combination of ready-stock from the inventory, back-ordering from the purchase module, and made-to-order from the production module.
Invoices and delivery orders can be issued in full or partial amounts, depending on the specific order. Invoices can also be issued by item or by any arbitrary amount.
All softcopy documents received can be attached with supplementary documents for future reference, and quotation and invoice generation is accomplished using customizable templates.
Supplementary documents received from customers, such as purchase orders or goods receive notes, can be easily attached to the corresponding sales process documents via drag and drop for future reference.
You can customize the system-generated documents, like quotations, invoices, and delivery orders, using the built-in template editor that allows you to drag and drop elements to create the desired layout.

Contains a complete list of product definitions, including descriptions, photos, pricing and tax information.
Products may not be necessary to be the same ask SKU, hence it can be configured to bundle multiple inventory SKUs or to have fixed specifications with variant options.

Generates a PDF document to be sent to a prospect, detailing the product and service prices being offered.
The process is streamlined with the ability to easily create new customers on-the-fly and the integration of a line item editor that pulls directly from the product catalogue.
Additionally, customers who have been assigned to a pre-defined price book category will have the relevant price adjustments automatically applied to their quotations.
Customization of the printable format for Estimates, Quotation, and Proforma Invoice documents is possible through the use of a template editor for PDF generation.

Records customer orders and allows purchase orders from customers to be attached for future reference. It also performs stock allocation, reserving inventory for the items in the order.
The Order Processing is a multi-stage process that includes inventory allocation, invoicing and delivery.
The allocation stage prepares the inventory for delivery and can be done through reserving ready-stock, purchase-to-order, and made-to-order.
The invoicing process allows for the issuance of multiple invoices for progressive billing and can be done in itemized or lump sum amounts.
The delivery stage can be split into multiple delivery orders to ensure efficient and accurate fulfillment of the order.

An invoice can be generated from a sales order or created from scratch, and generates a PDF to be sent to the customer. It also posts a transaction to the finance module's accounts receivable.
An invoice specifies an expected account to receive, and a due date for the aging report.
The process of finalizing an invoice, known as "knocking off," can be completed through the Payment Receive feature within the finance module.

Delivery Order contains detailed and organized specification of recipient information and the items to be delivered.
It is capable of generating a customizable PDF document that can be configured to display by Product code or SKU codes.
The Unit of Measure (UOM) can be converted to the customer's preferred UOM to facilitate a smooth goods acceptance process.
When the Inventory Warehouse module is activated, the process can be forwarded to warehouse personnel for pick, pack, and shipment processing.
if the Logistics module is enabled on top of Inventory Warehouse, this document will be managed through the Logistics module for more elaborate coordination, ensuring that the delivery process is carried out in an efficient and organized manner.

Maintains a database of customer companies and their historical document history, providing an overview of the customer profile and statistical summaries.

A list of contact information for individuals within a customer company.

Provides insights into sales and customer performance through reports such as sales history, sales matrix, and customer aging.
Key reports available are sales history, sales matrix, customer aging and more.

A list of preset sales terms with associated due dates that can be personalized to individual customer by company.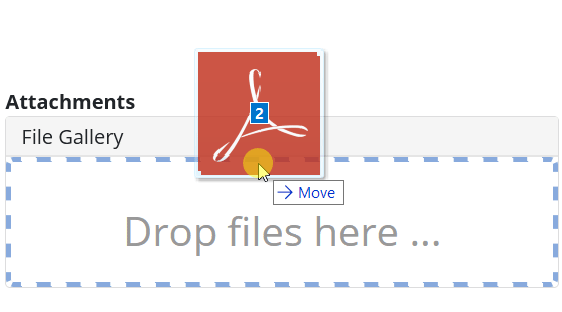 Quick Customer Company and Contact
With the quick customer creation feature, you can easily create a new customer company and contact person right within the documents.
This saves time and allows you to focus on preparing and issuing documents, rather than having to switch between pages or modules. The new customer information is automatically saved to the customer database for future reference.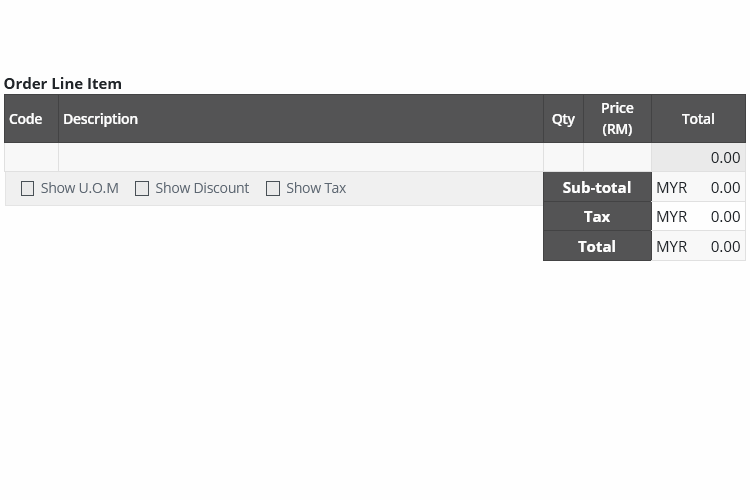 The Rich Line Items Editor
As you type, product code suggestions will appear and details about the selected product will be displayed. Prices and taxes are automatically filled in from the Product Catalogue, and customer-specific price adjustments can be applied automatically
You can apply discounts to individual items as a percentage or absolute value, and override the tax code based on the customer's location. The unit of measurement can also be changed to meet customer expectations.
In addition to these basic features, the Line Item editor also offers advanced options for working with multiple variations of a product. For added convenience, you can choose to hide or show discounts, taxes, and the unit of measurement as needed.
The Line Item feature is designed to make creating and editing Quotations, Orders, Invoices, and Deliveries as convenient as possible.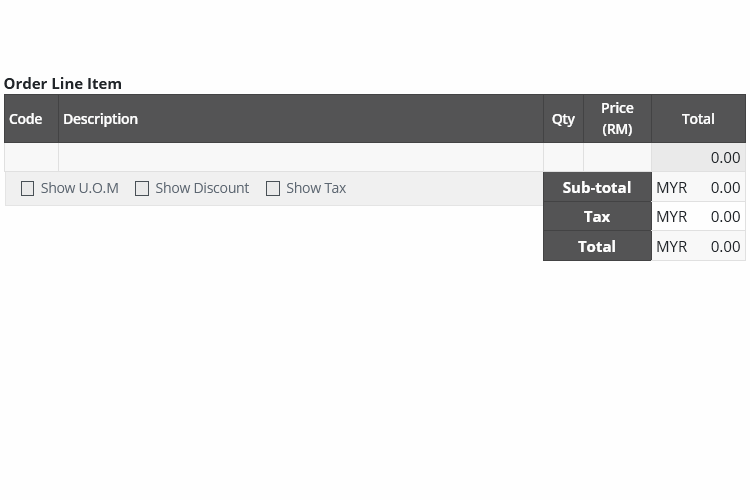 Product catalogue items represent a single sellable item in a sales order. They are typically associated with a single inventory SKU, but can also be configured to represent fees, services, or loose items where the user can choose any individual SKUs that are not normally for sale. In addition, they can be configured as one-to-many SKUs, such as a pair, or as a combo package that includes a collection of SKUs.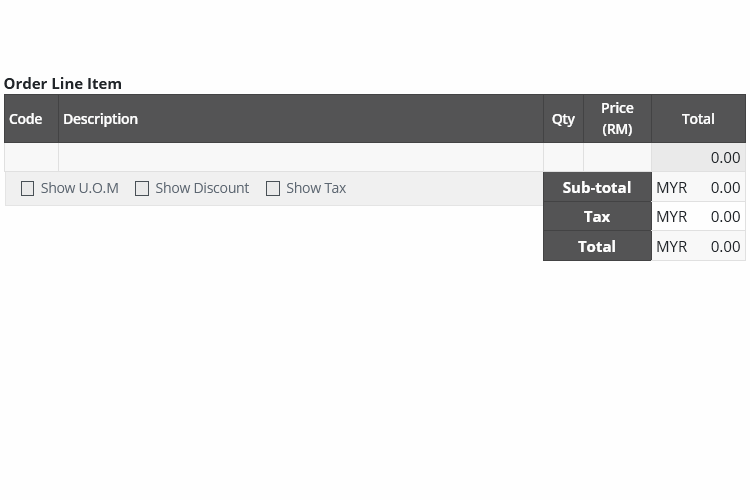 Invoicing by Itemize or Lump Sum
Invoice can be generated using the flexible options to choose from:
By the number of items to be delivered
By invoicing by an arbitrary
By percentage amount of the total sale.
This allows you to handle complex orders that may change throughout the fulfilment process with ease, ensuring that all elements are accurately tracked and accounted for
For example, if a customer places an order for 10 units of a product, but only receives 8 units due to a shortage, an invoice can be generated for the 8 units delivered rather than the original 10 units ordered. Alternatively, an invoice can be generated for a percentage of the total sale, such as 50% payment upfront and the remaining 50% upon delivery.
Quotation to Order to Delivery to Invoice

With all aspects of the business handled through the system, there is always a current and up-to-date record. Glancing at the dashboard tells you which invoices are past due, which orders have been processed and which quotes need follow-up.
A typical sales processing cycle may involve the following steps:
Quotation: A quotation is generated for a customer, outlining the products or services being offered and their associated prices. This document is typically created in the sales module and may be sent to the customer as a PDF.
Sales Order: Once the customer accepts the quotation, a Purchase Order is expected from the customer, and then a sales order is created to record the details of the customer's purchase.
Stock Allocation: If the products being purchased are in stock, user shall process the sales order to perform stock allocation to reserve the items for the customer. If the products are not in stock, the user may raise a procurement process to purchase the items from a supplier or to raise manufacture order depending on the business nature.
Invoice: Once the products or services have been delivered to the customer, an invoice is generated to request payment. This document is sent to the customer as a PDF.
Delivery Order: A delivery order is generated to specify the recipient details and the items being delivered. This document is use to perform pick and pack, and then used by the logistics department to track the delivery of the products to the customer.
Besides the standard process cycle, other events may occur such as a change request, return of a delivery, replacement of a delivery, overpayment, allowance of a discount, or refund. These events are typically handled using the advanced order management functions and the finance module.
Bookkeeping & Automation
Tips to do thing and that
Bookkeeping & Automation
Tips to do thing and that