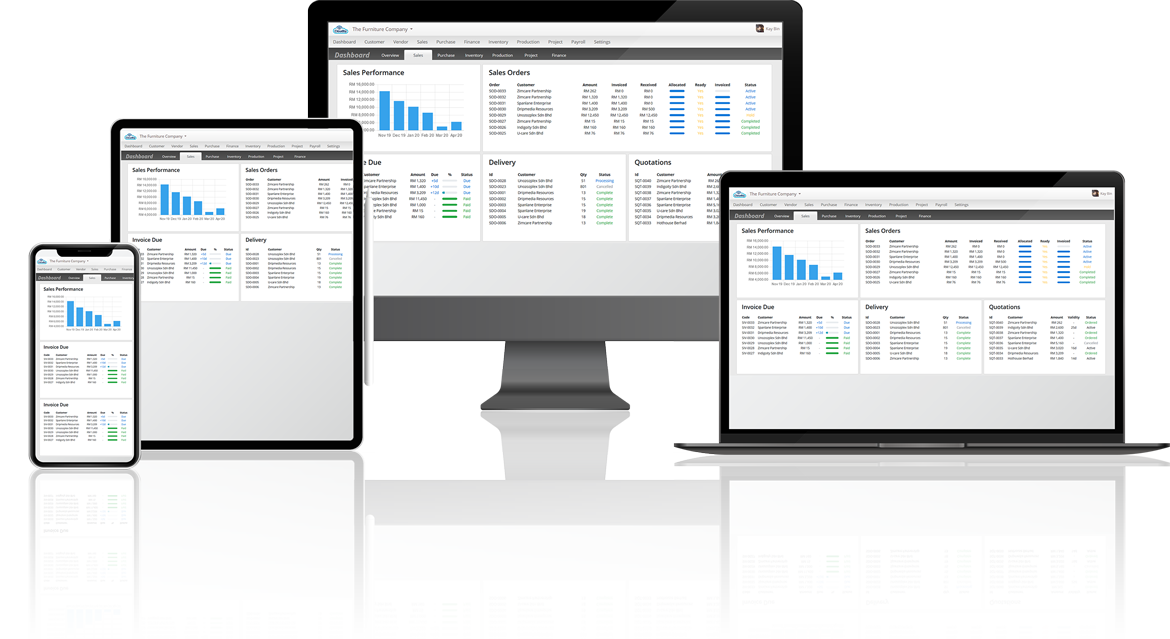 Full Set Accounting
The Complete Solution for Bookkeeping, Taxation, and Financial Reporting
Stay ahead of your finances with comprehensive accounting tools
One powerful and complete solution that manages bookkeeping, taxes, and financial reporting in real-time.
Special Feature Highlights
Collaborative Cloud Access
Foster collaborative teamwork as your team seamlessly operates together, whether you're in the office, on the shop floor, traveling, or working from home.
Experience the convenience of accessing your account anytime, anywhere with a simple login.
Cloudby platform is designed to work effortlessly across devices, be it a laptop, tablet, or mobile phone.
Ever wished you could just attach all references files directly to a document, and then view them easily, just like a image gallery?
Now, with Attachment feature, you can effortlessly attach multiple files to any document through a simple drag-and-drop action, and view it without the need to open each file individually!
Experience the convenience of previewing PDF files page by page without the hassle of downloading them.
But it doesn't stop at PDFs; our feature supports a wide variety of file formats, including photos, audio, videos, PPT, and Spreadsheets.
Additionally, utilize internal notes to store and share important information with your peers. These notes are always editable, even after the document has been confirmed or cancelled.
Streamline your workflow and boost productivity with Attachment & Notes, a powerful tool that simplifies attachment management and enhances collaboration.
Have you ever faced the clueless of not knowing the what process involved that led to a particular document state? and what had happen after the event?
Our powerful feature keeps a detailed record of the entire event chain leading up to the current state of a document, as well as any subsequent events.
Providing you with a clear view of all the stages and actions associated with the document.
Easily access a list of documents along with timestamps of actions performed by each individual, allowing you to effortlessly traverse between documents and gain highest clarity of the process.
When preparing a document, one often wonders if these transactions will be posted into the correct ledgers. Wouldn't it be nice to have a way to preview them before posting?
Transaction Preview enables you to preview the actual double entries of your invoices, credit notes, adjustments before they are committing into the general ledgers. This allows you to verify the accuracy of the calculations, ensuring that everything is correct.
Post your transactions with high confidence, knowing that Transaction Preview provides you with the ability to review and confirm the accuracy of your entries before finalizing them.
Have a preliminary journal entry that has been prepared, not posted,  yet you wish these numbers could be shown on balance sheet?
With Draft Transactions built into the system, all financial reports come with an option to include drafted transactions.
Now, you can make adjustments, create preliminary projections, and explore different scenarios while keeping the actual document in draft. This feature proves invaluable when evaluating future annual taxable revenue or any other purpose that might be of importance to you.
Once a while, a customers decide to make payment in partial, or knock-off multiple invoices at once, or intended to mix payment and credit notes, resulting in a complex and challenging payment process, doesn't it?
Our Powerful Payment Processor, capable of handling multi-document knock-offs and multiple payment sources. You now have the flexibility to combine documents and mix payments in to a single, swift payment operation.
Additionally, our system supports transaction fees, which can be set freely or according to presets.
Furthermore, our Director Payment-on-Behalf feature directly posts to the director loan account, providing a high degree of convenience.
In the event of excess customer payments, the system can generate a new customer deposits or a new credit notes on-the-fly.
Moreover, deposit and credit note amounts can be applied to partially to knock off documents, while the system keeps track of the remaining balance.
Accepting payments has never been easier! With just a few clicks, you can now generate ready-to-use payment receipts.
Bank reconciliation is a complex and mentally taxing process, with resolving outstanding items often leads to an abundance of paper worksheets scattered throughout the workspace.
Our bank reconciliation provides a easy step-by-step process with into two parts. The first part involves tallying against external statements and resolving outstanding items. These are just checking check-boxes.
The second part is to provides explanation for each outstanding items. Then the report is generated automatically based on itemized explanations.
Outstanding items are meticulously tracked for future resolution, ensuring the presence of easy-to-follow audit trails.
Managing closing can be a conundrum in itself, due to the tax computation amounts is depended on audited reports, which rely on the closure of the account.
It is a good practice to avoid keeping a period open for new transactions indefinitely.
Cloudby offers a solution with its Period Adjustment feature, enabling you to adjust the balance of a closed period faithfully. These adjustment transactions retain their original entry dates while being properly reflected in the Adjusted Financial Reports.
As a result, you have the flexibility to access both the Unadjusted Financial Report and the Adjustment Financial Report, providing you with comprehensive insights and ensuring accurate financial management.
Simply sign up for a free trial and you'll have access to all of the features. Our user-friendly interface and step-by-step guidance make it easy for you to get up and running quickly.
Here's what you can expect when you get started with Cloudby Business Suite:
So why wait? Sign up for a free trial today and see the benefits of Cloudby Business Suite for yourself! With our easy-to-use interface, you'll be up and running in no time.
Start Transforming Your Business Today
Don't wait any longer to take your business to the next level. Sign up for Cloudby Business Suite now and start enjoying the benefits of a streamlined and efficient accounting operation.
– Or –
Fill out the form and we'll contact you shortly.
We systematically digitize small businesses using our powerful business suite, to help them become more organised and operate more efficiently.
Cloudby Business Suites is a collection of applications that work together to help businesses be more successful. Our modules consist of Finance, Orders, Payroll, Retail, Inventory Production, Fixed Assets and more.